FINANCING AS LOW AS 0% APR
Split King Mattresses
The Best Split King Mattress On The Planet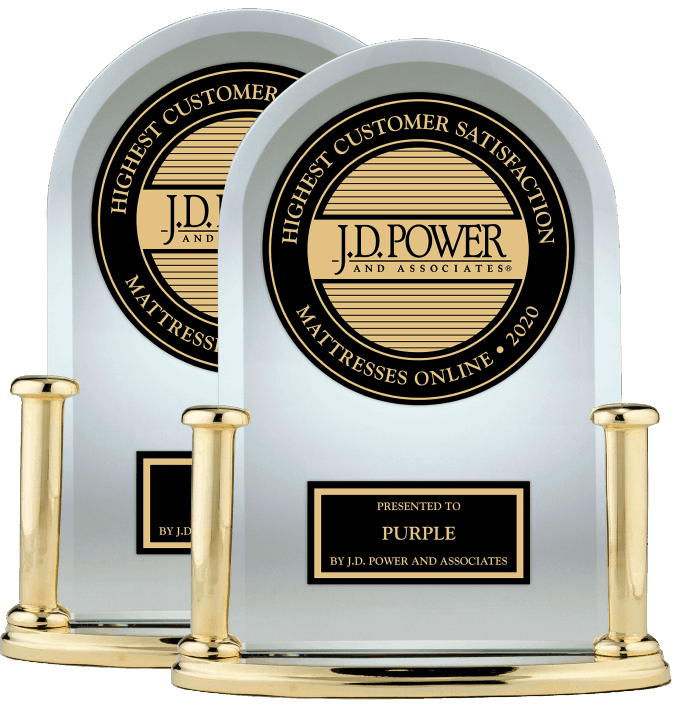 #1 In Customer Satisfaction With Bed in a Box Mattresses by J.D. Power
100-Night Trial
Sleep on your Purple® Mattress up to 100 nights in the comfort of your own home! If you don't love it, we'll pick it up and you'll get a full refund*.
*Accrued interest and shipping fees not eligible for refund.
0% APR Financing with Affirm
Pay as you sleep. Apply for monthly payments with Affirm at checkout and pay for your mattress over 3, 6, or 12 months with as low as 0% interest OAC.

Financing
Sleep tonight, pay tomorrow 0%apr financing. No fees, no surprises
Comfort and support
The only comfort innovation that is instantly soft where you want it, firm where you need it and comfortably cool all night.
Cool all night
Purple breathes and promotes airflow to keep you sleeping soundly and comfortably cool all night.
The Purple Grid: No Pressure Support
The Purple Grid™ is engineered for every body. The Purple Split King offers no pressure support which adapts to your unique body for comfort you crave and the support you need. All at once.
---
Is a Split King Size Mattress Right For Me?
A Split King mattress is the same size as a king-size mattress, although it is split into two twin size mattresses.
Not a great option for bedrooms smaller than 12x12 feet. A 12x12 foot bedroom or larger will allow a comfortable amount of space.
Ideal for couples with different sleep preferences, in addition, it helps isolate motion transfer.
What is a Split King Mattress?
A split king mattress is a king size mattress that is split into two equal halves. This type of mattress is used on an adjustable bed frame.

Technically, a split king mattress is just two twin XL mattresses side by side (one twin XL mattress is half the size of a king mattress). 

Here are the mattress dimensions of a king, split king, and twin XL mattress:

Twin XL mattress: 38 X 80 inches
King mattress: 76 X 80 inches
Split king mattress: 76 X 80 inches

As you can see, the king size bed dimensions and split king bed dimensions are the same. So, why would anyone want to buy a split king? 

Split king mattresses are ideal for use with an adjustable bed frame like the Purple PowerBase™. The PowerBase is the most advanced adjustable bed frame ever made. Each sleeper can adjust their side of the mattress to recline, sit up, or elevate their legs. The PowerBase also features Purple's zero-gravity position, the ultimate in weightless comfort (the perfect tension-free sleep position for no-pressure support). 

The PowerBase also comes with built-in massagers, snazzy under-bed lights, and even USB ports to charge your phone. 

Mattress Sizing
California King:
72" x 84"
Frequently asked questions.
How do you keep an adjustable split king mattress together?
A split king is made of two separate twin XL mattresses. If the mattresses or split bed frame isn't secure, the two beds can start to drift apart.

The best way to keep your mattresses together is to use a bed frame that fits your split king mattress. If you have a Purple mattress, we highly recommend using Purple's split king adjustable bed base, the Purple PowerBase™. This adjustable bed base was made specifically for Purple mattresses, including the Purple split king adjustable bed. So, you're guaranteed to get the very best fit with no slips or gaps in your split king mattress.

If you're not ready to buy a new adjustable frame, there are some other ways to keep your split king mattress together.

First, you should check if your bed frame is sliding. What's probably happening is that your split bed frames are moving apart and creating a gap in your bed. If you bought a split king bed frame, it should include a connector (like a metal bar) that holds the two frames together. Make sure that this bar is securely in place.

If you bought two twin xl bed frames instead of a split king bed frame, you may not have a connector. Instead, you can try to secure the legs of your bed frames by putting non-slip material (like rubber pads) under each leg.

Another possibility is that your mattresses are moving on the bed frame. To prevent this, you can put a non-slip mattress pad between the mattress and the bed frame. Make sure to cut it in half or it will prevent your bed from adjusting.

If you don't want to use a pad, you can use some heavy-duty, non-slip tape to secure the mattresses to the frame. This type of tape is usually used to secure rugs to slippery floors. Ask around your local home improvement store to find some.
What size of comforter fits a split king mattress?
You can use a king size comforter or two twin XL comforters on your adjustable bed. It depends on your preferences (and those of your partner).

Using one king comforter will give your bed a more uniform look. It will also allow you and your partner to share the same blanket space.

When using separate twin XL bedding, both partners will be able to choose a duvet that fits their needs. For example, one sleeper might like a lighter comforter and the other might want a warm, heavy one.
What kind of sheets do you need for a split king mattress?
A split bed requires different bedding than a standard king. For your adjustable mattress, you'll need to buy two twin XL fitted sheets.
DO NOT use a standard king fitted sheet with a split king mattress. Although a king fitted sheet will fit a split king mattress, it will prevent your bed from moving with the adjustable frame. This could damage your adjustable bed frame.
For your split king sheets, you can opt for one large king size flat sheet or two twin xl sheets. Both will fit your mattress, so your choice depends on your and your partner's sleep styles.
If you and your partner have the same preferences for bedding, a single flat sheet will do just fine. Plus, it will make it easier to snuggle. If one partner likes breathable bamboo and the other prefers fancy satin sheets, you can grab two different sets of twin xl sheets and enjoy the best of both worlds.
If you're worried about accidentally buying the wrong sheets for your split mattress, you can shop Purple.com for
split king sheet sets
to make life easier.
Which mattress should you buy for a split king adjustable bed?
You need to buy two twin XL mattresses to fit a split king adjustable bed. This is because the size of one twin xl mattress is exactly half that of a standard king mattress.
Let's take a look at the
twin bed dimensions
and king bed dimensions: 
Twin XL mattress
: 38 X 80 inches
King mattress
: 76 X 80 inches
Two separate twin XL mattresses will allow you to enjoy the full range of motion and all of the capabilities of your adjustable split king base. A standard king mattress, queen mattress, full mattress, or California king mattress (Cal king) is not compatible with an adjustable split king base. 
If you attempt to use any other mattress type on a split king base, you risk damage to the base and the mattress, and you will likely void any warranties covering your products. 
It's also important to remember to select two twin XL mattresses for your base, and NOT two twin mattresses. The XL mattress is five inches longer than the standard twin, so two twin mattresses will not fit an adjustable frame for a split king. 
To make shopping easier, Purple gives you the option to select the "split king" mattress size directly when choosing a mattress. This will ensure that both mattresses ship to your door for free and at the same time. Both mattresses will also be covered by Purple's 10-year warranty and 100-night risk-free sleep trial. 
Should I buy a split king mattress?
Is a split king mattress the right choice for you? If you fit into one of the following categories, then the answer might be yes. 

You want to use a split king adjustable bed frame: If you have or wish to have a split adjustable bed frame, you'll need a split mattress to use it. 

You and your partner have different sleep preferences: If you and your partner can't agree on what makes for a good night's sleep, then you can have the best of both worlds with a split king bed. It's the only way to sleep on separate mattresses while sharing a bed. 

You want a mattress with more motion isolation: If you're a light sleeper who wakes up to the slightest movement from your partner, a split king will eliminate virtually all motion transfer. This is especially true if you choose a split mattress that already has low motion transfer, like a memory foam mattress or a Purple Mattress™.

You want a luxurious sleep experience: Adjustable beds provide comfort and versatility that you can't get from a standard mattress and bed frame. With an adjustable bed, you can control your comfort with the click of a button. The best adjustable beds, such as the Purple PowerBase™, even come with premium presets and blissful massage settings.
Are split king mattresses comfortable?
Yes. In fact, a split king mattress is one of the most comfortable and luxurious mattresses you can buy. This is because adjustable mattresses give you far more control over your comfort than standard mattresses. 

A split king bed with an adjustable base will support your back when you want to sit up and allow you to kick back and elevate your legs without stacking pillows. Regardless of your sleep position, you'll be able to adjust your mattress to support your breathing, spinal health, and posture. You and your partner will finally be able to sleep in your ideal comfort zones. 

Modern adjustable beds, like the Purple PowerBase™, offer additional features for an out-of-this-world sleep experience. These include:

Preset positions like the zero-gravity position 
Saved positions (so you can find your favorite adjustments again)
5 massage settings for full-body bliss
Under-bed lighting 
Built-in USB ports for charging your devices

If you and your partner are interested in upgrading your sleep experience, a split king mattress is a great choice.