FINANCING AS LOW AS 0% APR
Queen Size Mattresses
The Best Queen Mattress On The Planet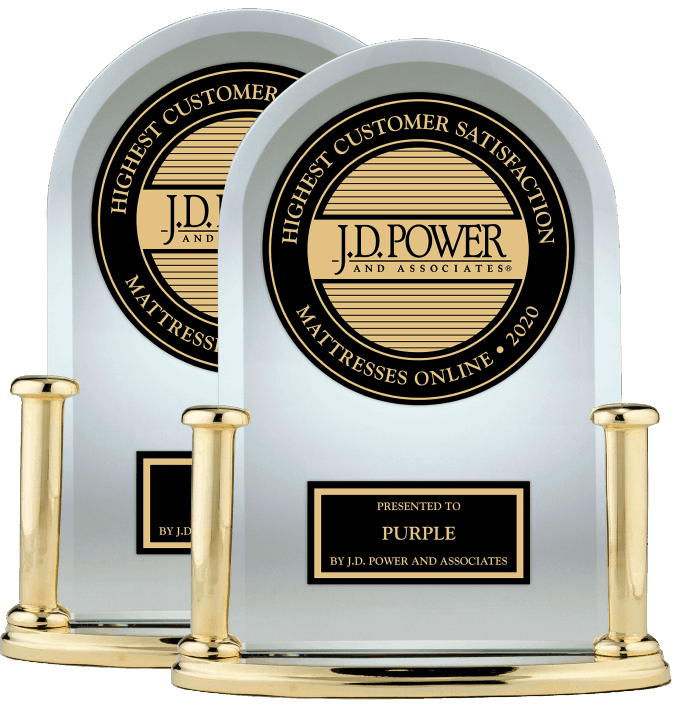 #1 In Customer Satisfaction With Bed in a Box Mattresses by J.D. Power
100-Night Trial
Sleep on your Purple® Mattress up to 100 nights in the comfort of your own home! If you don't love it, we'll pick it up and you'll get a full refund*.
*Accrued interest and shipping fees not eligible for refund.
0% APR Financing with Affirm
Pay as you sleep. Apply for monthly payments with Affirm at checkout and pay for your mattress over 3, 6, or 12 months with as low as 0% interest OAC.

Ultimate Comfort
The Purple Grid intelligently flexes to gently cradle your shoulders and hips for a unique zero gravity-like feel.
No Pressure Support
Instantly adapts to your body for the soft comfort you crave and the firm support you need. All at once.
Keeps You Comfortably Cool
With 2800+ open air channels, the Purple Grid neutralizes body heat so you don't sleep too hot or too cold.
The Purple Grid: No Pressure Support
The Purple Grid™ is engineered for every body. The Purple Queen offers no pressure support which adapts to your unique body for comfort you crave and the support you need. All at once.
---
Is a Queen Size Mattress Right For Me?
Queen is more spacious vs a twin or full, but doesn't take up as much space as a king.
As a general rule of thumb, your bedroom space should be about 9 ½ x 10 feet to be comfortable housing a queen size bed.
The Queen mattress is the most popular mattress sold. To provide enough room to snuggle and still have some space, couples should have at-least a Queen size mattress.
How Big Is a Queen Size Mattress?
A Queen size mattress is 60 inches wide and 80 inches long.

Mattress Sizing
California King:
72" x 84"
Frequently asked questions.
How big is a Queen Size Mattress?
Queen size mattress dimensions measure 60 x 80 inches. There are some variations to the standard queen mattress size. Here is a list of all the
queen size bed dimensions:
Queen Mattress: 60 x 80 inches
Olympic Queen Mattress: 66 x 80 inches
California Queen Mattress: 60 x 84 inches
Split Queen Mattress: 2 mattresses each 30 x 80 inches
The dimensions of a standard queen size mattress are typically the same when it comes to length and width, but height is a different story. A queen mattress size can range anywhere from 6 inches to 24 inches in height. Anything less than 6 inches is typically considered a mattress topper instead of a mattress. Queen bed dimensions are considerably larger than a full-size mattress (also known as a double bed) but smaller than a king-size mattress and a California king mattress.
How much is a Queen Size Mattress?
Queen size mattresses vary greatly in price depending on the brand, the type of materials, and the quality of those materials. Prices can range anywhere from $300 for a bargain mattress to $3000+ for a high-quality mattress. Purple offers several different premium quality queen mattresses in the $1,000-$3,000 range.

Queen Purple Mattress
Queen Purple Hybrid
Queen Purple Hybrid Premier with 3" or 4" Purple Grid™

All Purple mattresses include free shipping and returns, a risk-free 100-night sleep trial, and a 10-year warranty. Hybrid models include a responsive base layer of pocketed coils for added support and comfort. All of our mattresses feature the patented Purple Grid™, which provides a level of comfort and support that only Purple can offer for all sleeping positions and body types.
What is the best Queen Size Mattress?
The best queen size mattress is one that provides the right spinal alignment, pressure relief, and comfort for your body type and sleep style.
The Purple mattress is the best queen size mattress for many because it provides a great night's sleep for all sleepers and sleep styles. Couples love Purple because the Purple Grid
™
accommodates different sleeping preferences without sacrificing comfort. For stomach sleepers, side sleepers, and back sleepers, the cradling comfort of the Purple Grid
™
top layer conforms to the body for optimal support and spinal alignment. Purple mattresses are also loved because they sleep so cool – The Purple Grid
™
has over 1800 open airways that promote Absolute Airflow
™
.
Purple mattresses aren't just the best queen size mattresses for back support, pressure reduction, and cool comfort, they're also the easiest mattresses to shop for. Purple will ship a new mattress directly to your home, and you'll have 100 days to decide if it's right for you. If you don't like it, Purple will refund your money and cover the return cost.
Did you know Purple was rated #1 in Customer Satisfaction with Bed in a Box Mattresses by
J.D. Power
, achieved the highest score in the following factors:
Support
Comfort
Durability
Value Given the Price Paid
Where can I buy a Purple Queen Mattress?
You can shop safely and conveniently for a queen mattress right here at Purple.com. Visit our
mattress page
to get started. All mattress orders include free shipping, a 100-night sleep trial with free returns, and a 10-year warranty. We've also partnered with top mattress stores across the United States. If you wish to purchase a Purple locally, you can search for a
mattress store
near your home.
What are the Queen Mattresses that Purple sells?
Purple currently sells three different mattresses and all of them are available in queen size.
Purple Mattress - The Purple® Mattress is known as "the bed that broke the internet." It's ideal for all sleepers with its cooling comfort and No Pressure® Support. It features a 2" Purple Grid™ layer and a durable base of high-density foam. As a foam mattress, it is hypoallergenic, resistant to dust mites, and works exceptionally well with an adjustable bed frame.
Purple Hybrid - The Purple® Hybrid features a base layer of responsive support coils and a 2-inch Purple™ Grid. These pocket coils for optimal support, responsiveness, and durability. It also encourages airflow through the mattress for a cooler night's sleep. The Hybrid is recommended for heavier sleepers and side sleepers as well as those who want a more luxurious sleeping experience.
Purple Hybrid Premier - The Purple® Hybrid Premier represents the peak in weightless comfort and No Pressure® Support. Featuring your choice of 3 or 4 inches of the Purple Grid™ top layer, this queen bed suspends the body in zero-gravity comfort, eliminating tension and letting the body relax in its natural state from head to toe. A layer of responsive pocketed coils provides additional support and responsiveness. The Purple® Hybrid Premier may be the best queen size mattress for any sleeper. It's recommended for those who desire the pinnacle of comfort.
Who should get a Queen Size Mattress?
The queen mattress is the most popular mattress size because it's great for a variety of sleepers and bedrooms. Reasons for getting a queen size mattress include:
You sleep with a partner: A queen-sized mattress is the most popular choice for couples. You might think that a full-size mattress is the best for couples, but they are a bit too narrow for most couples. Queen mattresses give each sleeper a full 30 inches of wiggle room (about 2.5 feet), which is plenty of space to stretch, roll, and change positions.
You have a family: If you have a family, you're going to have little ones (and probably the dog too) crawling under the covers to wake up mom and dad or get some cuddles in the middle of the night. A queen mattress provides enough space for a couple to sleep comfortably with a miniature addition or two.
You like a spacious mattress: Many singles prefer a queen size bed for the extra space it provides. A queen mattress gives you the freedom to spread out and sleep like royalty.
You're over 6 feet tall: If you're one the tall side, a full or twin mattress will leave your feet dangling over the edge of the bed. At 80-inches long, a queen bed extends to 6' 8" so taller people can enjoy their sleep as much as the rest of us.
You're furnishing a master bedroom or guest room: A master bedroom should be furnished with at least a queen bed. If you have a large master bedroom, a king size bed is also a good master bedroom choice. For guest rooms, a queen bed is a great choice since it fits nicely in most rooms and works well for both singles and couples.
What size sheets will fit a Queen Size Mattress?
It's easy to find
sheets
for your queen size mattress. Sets of sheets are named for their corresponding mattress sizes. This means that if you want to fit a queen mattress, you should look for queen mattress sets of sheets. If you want sheets for a king mattress, you should buy king size sheets, and so on.
Queen Fitted sheet: Most queen fitted sheets measure 60x80 inches, though exact dimensions can slightly vary. The average depth is 14 inches, though "deep pocket" versions are also available. Since fitted sheets have elastic corners to prevent sliding, it's important to get a queen fitted sheet for your queen mattress.
Queen Flat sheet: Dimensions of a queen flat sheet are approximately 90x105 inches. The exact dimensions vary by manufacturer. There's a little more leeway when it comes to the dimensions of a queen flat sheet since it doesn't have elastic or need to fit as precisely as a queen fitted sheet. You can even use a full size or king size flat sheet with a queen mattress. It won't be exactly the right size, but it won't be too noticeable.
If you need sheets for an especially deep queen mattress, like a hybrid mattress or thick pillow top innerspring mattress, then you may need to buy a special fitted sheet with extra pocket depth. The "pocket" of a fitted sheet is the part that tucks into each corner of the mattress. Most fitted sheets are made for mattresses up to 14 inches high. If your queen mattress is taller, you need to buy a deep-pocket fitted sheet.
How to transport a Queen Size Mattress?
Transporting your queen size mattress must be done with care. If you're moving your queen size mattress to a different room in your house, you can simply stand the mattress on its side and drag it or carry it. Queen mattresses are heavy, so you should find someone to help you.
If you're moving to a different house, you can transport your mattress by following these steps:
Undress your mattress: Take everything off the mattress. Lift the mattress off the bed frame and box spring and put it on the floor.
Bag your mattress: Get a plastic mattress bag (you can order them online) and have someone help you slide it onto your mattress until it's completely covered.
(Optional) Fold the Mattress: With a friend, get on either side of the mattress and fold it in half from top to bottom. While holding the mattress in a folded position, use some rope, bands, or ratchet straps to tie the mattress together. Once it's tied, it will remain in its folded position. If you have a large moving truck, you may not need to fold the mattress (though you should still protect it with a mattress bag).
If your mattress shipped to you compressed in a box, you might think boxing it up again would be an easy way to transport it. But keep in mind that bed-in-a-box mattresses like the Purple mattress cannot be recompressed and boxed a second time. Trying to recompress your mattress may result in injury or damage to the mattress.
WARNING: Not all mattresses are safe to fold. Call your mattress brand's customer service line to find the best way to transport their queen mattress. If you fold a mattress and cause damage, you may void the warranty.