FINANCING AS LOW AS 0% APR
King Size Mattresses
The Best King Mattress On The Planet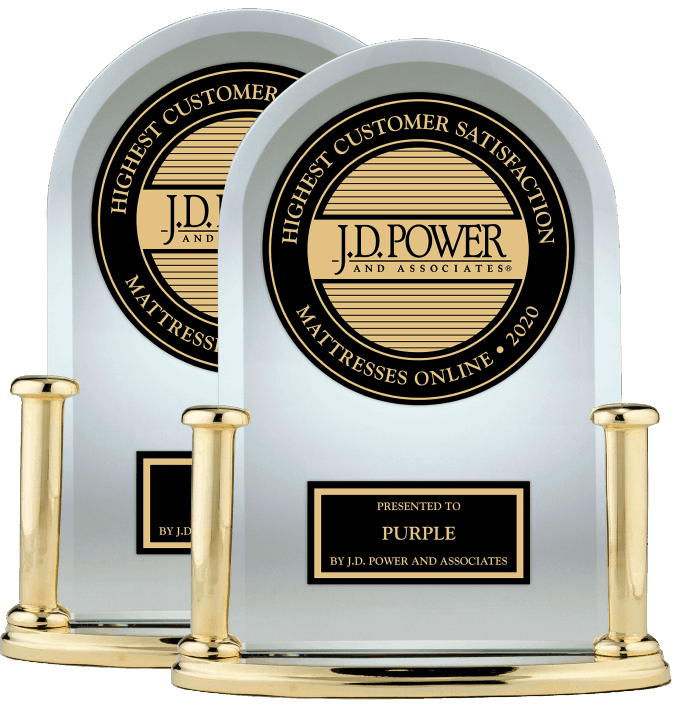 #1 In Customer Satisfaction With Bed in a Box Mattresses by J.D. Power
100-Night Trial
Sleep on your Purple® Mattress up to 100 nights in the comfort of your own home! If you don't love it, we'll pick it up and you'll get a full refund*.
*Accrued interest and shipping fees not eligible for refund.
0% APR Financing with Affirm
Pay as you sleep. Apply for monthly payments with Affirm at checkout and pay for your mattress over 3, 6, or 12 months with as low as 0% interest OAC.

Comfort
The Purple Grid intelligently flexes to reduce pressure points, to adapt to your unique body.
Comfort for any body
Purple is perfect for all sleeping positions and sleepers of all shapes and sizes.
Sleeps Cool
With 2800+ open-air channels, the Purple Grid stays cool for superior comfort
The Purple Grid: No Pressure Support
The Purple Grid™ is engineered for every body. The Purple King offers no pressure support which adapts to your unique body for comfort you crave and the support you need. All at once.
---
Is a King Size Mattress Right For Me?
A King size mattress is 16 inches wider than a queen-size mattress and also the same size as two twin XL mattresses pushed together.
The King Size Mattress is ideal for a room that is 12 is at least 12 by 12 in order to comfortably accommodate your king-size bed.
Most people would agree that the best mattress for couples is a King-Size mattress. The King will comfortably fit couples with extra room to spare.
How Big Is a King Size Mattress?
King size mattress dimensions are 76 X 80 inches. These
king size bed dimensions
are standard in the industry, though the height of a king size mattress can vary. There are actually a few different types of king size mattresses. It's important to know the differences, especially when choosing a bed frame and bedding.
King Size Mattress: 76 X 80 inches
California King Size Mattress: 72 X 84 inches
Split King Bed: 76 X 80 inches
The king mattress is the widest mattress you can buy from most mattress brands. It provides a spacious surface big enough to fit the whole family. A king size mattress is a full 16 inches wider than a queen mattress. The California king is a longer mattress suited for the tallest sleepers, though it's a bit narrower than the king size. Inch for inch, the king mattress is a little larger than the California king.

Mattress Sizing
California King:
72" x 84"
Frequently asked questions.
How much does a king size mattress cost?
King size mattresses can vary widely in price. Purple king size mattresses range in price from $1399 to $4998.
King Size Purple Mattress
King Size Purple Hybrid
King Size Purple Hybrid Premier with 3" or 4" Purple Grid™
If you're looking for the best king size mattress, you can't go wrong with Purple. Only Purple Mattresses have the Purple Grid. Our patented Hyper-Elastic Polymer comfort layer makes you feel like you're floating in zero gravity. Purple king mattresses provide luxurious no-pressure support and superior comfort. Be sure you have a
King size bed frame
to fit your mattress.
Your Purple Mattress also includes free shipping and returns, a 10-year warranty, and a 100-night mattress trial. Try a king size Purple mattress risk-free. If you don't like it, we'll take it back for free and give you a full refund.
What is the best king size mattress?
The best king size mattress provides optimal support for your body and sleep style. Thanks to the unique properties of the Purple Grid, you can expect a great night's sleep no matter your body type or sleeping position. Our unique Purple Grid provides adaptive support, contouring comfort, and maximum breathability. The Hyper-Elastic Polymer material adapts to your body to deliver no-pressure support and zero-gravity comfort.
Purple has a king mattress for every sleeper:
Purple Mattress
: Known as "The Bed that Broke the Internet", the Purple Mattress features a 2-inch Purple Grid with a high-density foam base, delivering a luxury sleep experience on an affordable king size bed.
Purple Hybrid
: A base layer of individual pocket coils and a 2-inch Purple Grid top layer provides enhanced support and more responsiveness.
Purple Hybrid Premier
: Our most luxurious mattress, the Purple Hybrid Premier features responsive pocket coils and plush comfort. Choose a 3-inch or 4-inch Purple Grid layer for the ultimate zero-gravity experience. You have to feel it to believe it!
There's no other mattress like Purple, which may be why Purple was rated No. 1 in customer satisfaction by
J.D. Power and Associates
. Purple beat every other bed-in-a-box brand and achieved the highest score in the following categories: Support, Comfort, Durability, Warranty, and Value.
Who is a king mattress best for?
If you find yourself in one of the following categories, you should consider buying a king size mattress.

You sleep with a partner: King mattresses make great choices for couples who love to stretch out and make the most of their beds. 

You like to chill in bed: Nowadays, we spend a lot more time in bed. If you like to read, watch Netflix, or just hang out in bed, getting a king mattress will make your sack time more enjoyable.

You are a light sleeper: Does your partner wake you up with the slightest movement? A king mattress can help by putting more space between you and increasing motion isolation. 

You have a big bedroom: Don't underestimate the power of Feng Shui! A big bedroom deserves a matching king size bed. 

You want a luxurious sleep experience: There's nothing like having a massive bed to snuggle up in. If you want the ultimate in luxury sleep, you'll love a king size mattress.
Where can I buy a king size mattress?
The best place to buy a king size mattress is right here at Purple. Not only can you get the
best bed-in-box mattress
at a great price, but you also get free shipping and returns, a 100-night no-risk sleep trial, and a 10-year warranty. 
Purple also partners with top mattress stores around the country. If you prefer trying a mattress in person, you can use our handy
store locator
to find a Purple mattress retailer near you.
Do two twin size mattresses make a king?
Not quite. While two twin mattresses are the same width as a king mattress, they are 5 inches too short. However, two twin XL mattresses are the same size as a king mattress. This is known as a split king. A split king measures 76 X 80 inches, just like a standard king. Split king mattresses are best for:
* Using with a split
adjustable bed frame
(the most common reason to get a split mattress)
* Couples who have very different sleeping preferences and want two different mattresses
* Super light sleepers (split mattresses help eliminate motion transfer)
Purple's split king mattresses go especially well with the split king
Purple Power Base
, an adjustable bed frame featuring a wireless remote to control your mattress. This high-tech bed frame also includes LED lighting, USB charging, massage mode, and zero-gravity mode for a true weightless sleep experience. 
How does the king compare to the California king?
California king beds are longer and narrower than standard king beds. Let's take a look at the difference in mattress sizes:

* King Mattress: 76 X 80 inches
* California King Mattress: 72 X 84 inches

The king mattress is wider than the Cal king, but it's also shorter. For most sleepers, a king size bed mattress will do. The California king mattress size is designed especially for sleepers who are extra tall and need a few more inches of leg room. Another reason you might opt for the Cal king is to better accommodate your bedroom. For some bedrooms, a 76-inch mattress may be too wide. If you want spacious luxury without downsizing to a 60-inch queen, a California king is a good choice.
Is there a delivery fee for a king size mattress? 
No, we do not charge a delivery fee. We offer free shipping on all orders to the 48 contiguous states. All Purple mattresses come with a 100-night mattress trial, so you can try your king size mattress risk-free. We also offer free returns if you're not satisfied. In the unlikely event that there's a problem with your order, we'll pick up the mattress for free and give you a full refund.