FINANCING AS LOW AS 0% APR
Full Size Mattresses
The Best Full Mattress On The Planet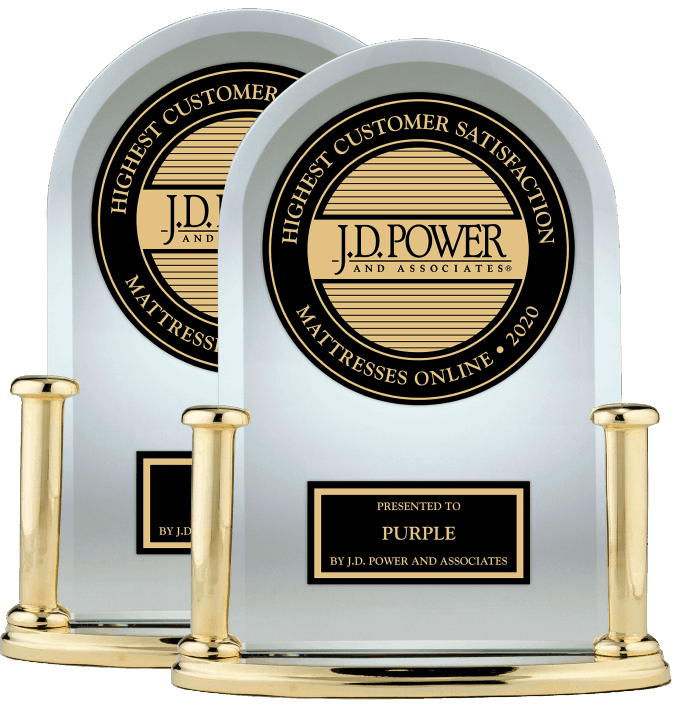 #1 In Customer Satisfaction With Bed in a Box Mattresses by J.D. Power
100-Night Trial
Sleep on your Purple® Mattress up to 100 nights in the comfort of your own home! If you don't love it, we'll pick it up and you'll get a full refund*.
*Accrued interest and shipping fees not eligible for refund.
0% APR Financing with Affirm
Pay as you sleep. Apply for monthly payments with Affirm at checkout and pay for your mattress over 3, 6, or 12 months with as low as 0% interest OAC.

Sleeps cool
The Purple Grid allows airflow with thousands of open-air channels so you sleep comfortably cool.
Friendly financing
Sleep better for as little as 0% APR financing.
Comfort for any position
The Purple Grid intelligently adapts to your unique body and sleeping positions.
The Purple Grid: No Pressure Support
The Purple Grid™ is engineered for every body. The Purple Full was made to solve problems normal mattresses create that prevent great sleep. The only comfort innovation that is firm where you need it, instantly soft where you want it and comfortably cool all night.
---
Is a Full Size Mattress Right For Me?
The full size mattress is the same length as a twin but is 16 inches wider.
The full is an ideal option for single sleepers wanting more space to move around in bed.
As a general rule of thumb, your bedroom space should be at least 9 x 9 1/2 feet to provide plenty of space.
How Big Is a Full Size Mattress?
A full size mattress (also called a double mattress) measures 54 x 75 inches. These measurements are standard throughout the mattress industry. A full size bed is the same length as a twin bed but 16 inches wider, which is ideal for a teen or adult.

All full size bed dimensions are the same length and width, though the height of a full mattress can vary. Most mattresses range from 8-14 inches tall. Some mattresses are even taller, but keep in mind that thicker mattresses aren't necessarily better—it's what's inside that counts.

Mattress Sizing
California King:
72" x 84"
Frequently asked questions.
How much does a full size mattress cost?
The cost of a full size mattress can vary significantly across brands. Purple offers three full size mattresses ranging from $949-$2499.
Financing options
are also available for as low as 0% APR. All Purple mattresses include free shipping and free returns, a 100-night risk-free sleep trial, and a 10-year limited warranty. 
Full Size Purple Mattress
Full Size Purple Hybrid Mattress
Full Size Purple Hybrid Premier with 3" or 4" Purple Grid
No matter which Purple you choose, you can enjoy the instant response and No Pressure Support of our patented Purple Grid™. The Purple® Hybrid and Hybrid Premier also include individually wrapped pocket coils for an added level of responsiveness and support.
Can a full size mattress fit a couple?
A full size mattress used to be the standard mattress for couples, but these days it's considered to be a bit small. A full size mattress is only 54 inches wide, which leaves each sleeper just over 2 feet of wiggle room. That's not very much, especially for larger folks. For that reason, the queen mattress has become the new standard for couples. If you're both average to petite in size (or especially fond of cuddling), then a full bed may be fine.

Purple mattresses are especially good for couples. The Purple Grid™ comfort layer found on all Purple mattresses has adaptive firmness, so it can provide no-pressure support regardless of body type or sleep position. Even if you and your partner prefer drastically different mattress types, you can both get a great night's sleep on a Purple.
Where can I buy a Purple full mattress?
The best place to buy a Purple full mattress is right here at
purple.com
. Enjoy free shipping and free returns, a 100-night sleep trial, and a 10-year warranty. To top it off, we love to toss in freebies and additional discounts with your purchase. 
If you'd like to try a Purple in person, you can visit one of our partner stores across the United States. Search for a
mattress store
to find a location near you.
Do I need a box spring with my full mattress?
No, you don't need a box spring with your full mattress. In fact, we don't recommend it. Purple Mattresses are best supported by a
bed frame
or foundation and not a box spring. We offer a line of sturdy and attractive bed frames that are made to suit Purple mattresses perfectly. 
The Purple Platform
The Purple Foundation
The Purple PowerBase
(adjustable base)
Note
: Be sure to check your mattress warranty. Some warranties require the use of a specific type of mattress base or bed frame. If you don't adhere to the guidelines, you risk voiding your warranty. 
Is a full size mattress the same as queen?
No, a full size mattress is not the same as a queen mattress. Let's take a look at queen and full size mattress dimensions to compare:

Full mattress: 54 x 75 inches
Queen mattress: 60 x 80 inches

The queen bed size is 5 inches longer and 6 inches wider than a full bed. For this reason, the queen bed is a popular mattress for couples and a full size bed is generally recommended for a single adult or teen sleeper.
Why did the full bed get replaced by the queen bed in popularity?
There are a few reasons. First, American bedrooms and homes have become larger over time. With bigger spaces to fill, people have opted for larger beds that give them more space to sleep. The queen's extra space makes it easier to change positions, and the extra distance between sleepers can help the bed stay cooler.
These days, we use our beds for more than sleeping.
A study found
that while Americans only sleep about 7 hours per night, they spend an additional 4 hours each day in bed doing other things like watching shows and scrolling on their phones. Now that the bed has become a space for activities, it's only natural that people want to upgrade to a larger size.
But the queen's reign may soon be over. The king mattress and California king mattress are also popular choices for the master bedroom. King size mattresses offer even more sleeping space, which is especially helpful for accommodating children and pets.
What is the best full size mattress?
If you're looking for an all-around great mattress for any sleep position and body type, Purple is the way to go. But don't take our word for it. The Purple mattress was ranked #1 in Customer Satisfaction with Bed in a Box Mattresses by 
J.D. Power
, including best in both comfort and support!
Purple achieved the highest score in the following factors:
* Support
*  Durability
*  Comfort
* Value Given the Price Paid
Only Purple has the one, the only, Purple Grid™. The patented open airway grid is made of Hyper-Elastic Polymer material that responds and adapts to any body type for amazing comfort and support. Order your Purple today and we'll deliver the mattress of your dreams straight to your door. Each mattress includes free shipping, free returns, a 100-night sleep trial, and a 10-year warranty.